Panama is a peculiar country with peculiar characteristics determined both by its history and location. While visiting Panama you'll notice and enjoy these features. Here we will explore everything you need to know before traveling to Panama, looking into the people, tourism, the travel destinations, the best way and the costs of traveling in Panama.
These 50 Panama travel tips will help you understand Panama and make your trip easier and more enjoyable.
Panama and the Panamanians
#1 Panama is located in Central America in the isthmus of Panama, connecting North America to South America. Panama only has borders with Colombia in the South/East and Costa Rica in the North/West. The North shore is bathed by the Caribbean Sea while to South is the Pacific Ocean.
#2 The country is shaped like an almost perfect sideways "S" with a central spine of steep mountains and lowlands plains in the coast. The highest point of Panama is the Baru Volcano (inactive) in Boquete. From its top one can see both oceans, Atlantic and Pacific.
Panama also includes several islands, most of them absolutely beautiful. Some of the most famous are, San Blas Archipelago, Bocas del Toro, Pearl Islands and Coiba island (the biggest).
#3 Panama only has about 4 million inhabitants, with a density of 56 people per km2. Panama's population is mostly formed by Mestizos, but also by Indians, African and European descendants.
The capital, Panama City, accommodates almost half of the population with 1.5 to 2M people living there.
#4 The official language of Panama is Spanish, but many people speak in English. At least, in tourism-related services. So, if you speak Spanish or English you won't have any problem communicating.
As a matter of a fact, even if you didn't you would probably get around. Panamanians are some of the most communicative people we have met, who love to talk and interact.
#5 Panama is a tropical country, with hot weather throughout the year, with a wet season is from May to November, and a dry season from December to April. Yet, you should know that even during the dry season is perfectly normal to have heavy downpours for a few hours.
One cool thing about Panama's location and climate is that it's located outside the hurricane belt, which means it's very rarely affected by these storms.
#6 The peak season in Panama is during the dry season, particularly from February to April. In our opinion, it's also the best time to visit Panama.
We traveled to Panama in February/March and were a bit anxious about traveling during peak season – we really dislike overcrowded places and prefer to have relaxed trips. However, we never felt that Panama was too crowded (at least with tourists).
So, if you can get the best possible weather and without any major drawbacks, why not take advantage of it?
#7 The whole country boasts incredible biodiversity, from the mountains and forests to the oceans and mangroves.
How diverse you may think? Panama is home to 900 bird species —- more than all of North America!
#8 Panama became independent twice, once from Spain in 1821, another from Gran Colombia (which included Panama, Colombia, Venezuela, and Ecuador) in 1903, thus has two independence days.
Spain ruled Panama from the XV century to 1821. Panama was one of the most important outposts in the Americas because it was the easiest road to transport Peru's treasures back to Spain.
#9 Since its second independence, the USA has been very influent on Panama.
In fact, the interest of the US in the construction of the Canal was instrumental to the independence of Panama. It was the US that built the Canal, and they managed it until the end of 1999. If you want to visit the canal, you can do it independently or on an organized tour.
Panama was a protectorate of the US for many years, and as late as 1989 the US intervened and invaded Panama. Even today, you can see many US stores, franchises, expats and tourists in Panama.
#10 You may be wondering if Panama is safe to travel? In our experience it's fairly safe, we didn't encounter any problem and didn't see anything weird. Although, we did see a lot of police, particularly in Panama City. We advise against walking alone at night in some neighborhoods, particularly around Casco Viejo.
Comparing with its neighbors, Panama is one of the safest countries in Central America and even in Latin America. There are still some crimes (even violent ones) but tourists very rarely are involved. Note, that the Darien region is the obvious exception here, and thus you really shouldn't be traveling there!
Additionally, though we didn't witness anything dangerous, reports usually advise travelers to be wary of pickpockets and bear in mind that mugging also happens, particularly in public transports, touristy and crowded places.
As always, we advise you to travel with insurance! You never know what may happen on a trip and to really enjoy it without being worried about what can go wrong, travel insurance is crucial – it covers not only the costs of medical problems but also theft and loss of valuables.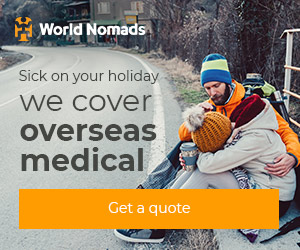 #11 Despite having one of the fastest-growing economies of the region and one of the richest countries in Latin America, poverty is still a problem. There're signs of extreme poverty in Panama, and you should be prepared to witness them…
In Panama City you can easily spot the huge difference between poor and rich – they are seldom door to door. If we look at the economic indicators, they confirm this perception with a very high Gini Index (the higher the index the more unequal the country).
Travel in Panama and Tourism
#12 If you are looking for a travel destination with hot weather, paradisiac beaches, mountains, dormant volcanoes, tropical forests, and a pint of history and urban capital city, then Panama is one of your top options!
#13 Panama is home to 5 UNESCO heritage sites, 3 natural and 2 cultural sites. There are also 2 sites on the tentative list of UNESCO.
The 3 natural sites are:
Coiba National Park and its Special Zone of Marine Protection – home to an exceptionally large number of endemic mammals, birds, and plants as well as to a several threatened species
Talamanca Range-La Amistad Reserves / La Amistad National Park – shared with Costa Rica.
Darien National Park – with a wide range of habitats including sandy and rocky coastlines, mangroves, swamps, upland, and lowland tropical forests.
While the two UNESCO cultural sites are:
Fortifications on the Caribbean Side of Panama: Portobelo-San Lorenzo – outstanding examples of Spanish military architecture, the forts were constructed in the 17th and 18th centuries to protect the Isthmus of Panama which had been of great importance to European colonial trade
Archaeological Site of Panamá Viejo and Historic District of Panamá – the first European settlement on the Pacific coast of the Americas. The Historic District is a 17th-century replacement of the original town and preserves its street plan, architecture and blend of Spanish, French and early American styles.
#14 Panama City is unique in Central America – it's easily the most advanced urban center in the region with huge skyscrapers and service and banking-oriented economy. Unfortunately, it's also here that you'll see a lot of poverty and misery.
If you are on a really long trip and need to stop, rest and recharge batteries in a developed city, then Panama City is your best choice in the region. Due to the weather and skyscrapers, many people compare Panama city with Miami.
#15 Panama city isn't one of those capitals that you can easily skip, and use only to get in/out of the country (like San Jose in Costa Rica). In fact, Panama city has plenty to offer, with the Canal, Panama Viejo, Casco Viejo, and the whole city vibe with lots of things going on all the time. You should at very least spend two days in Panama City.
Panama City is the only capital in the world that has a tropical Jungle within its limits.
#16 We struggled a lot if we should visit San Blas, it takes a few (4/5) hours to get there, plus 5h again to return and it's expensive… are the islands really worth the time and money? If, like us, you are struggling to make a decision, let us make your life easy: Go to San Blas!! And visit one of the most beautiful places on this planet.
We have been to many amazing beaches: Koh Rong and Koh ta Kiev in Cambodia, Zlatni Rat in Croatia, Maya Bay in Thailand, the Perhentian Islands in Malaysia, and so on, but NONE is as good as most in San Blas.
In San Blas, what you see in the pictures is really what you get: hundreds of incredible small islands with the bluest waters and really soft sand. Plus, most of the time you only have to share them with a handful of people. If you are lucky, with no one!
#17 Now that I convinced you to visit San Blas, you should be aware that in San Blas you won't have a working cell phone, you'll have limited access to electricity, and you are in the Guna Yala comarca.
Click here to learn how to visit San Blas like a boss!
The Guna Yala are the indigenous people of the region where San Blas is located and they are mostly self-governing the area. To enter it, you even have to show your passport, as if you were entering a country within Panama.
#18 If for some mysterious reason, you decide not to go to San Blas but still want to explore beaches in Panama, then your best choice is probably Bocas del Toro. Bocas del Toro, particularly Bocas town is popular for the party scene and energetic vibe. Yet, we found that there's more to it.
Bocas town is probably the biggest backpacker hub in Panama, but it's still charming, particularly the view when we arrive by boat with all the houses on the hedge and over the sea. It's also much cleaner than I expected it to be. We didn't spend much time in Bocas town but did rent a bike and had a very pleasant ride through the island. If you have time, we strongly advise you to do the same.
#19 Though, If you are looking for a more authentic and less crowded island, Bastimentos may be your answer. Don't get us wrong, you still have many guest houses, hostels, hotels, and even high-end resorts in Bastimentos, but the island is big and many wonderful sites have little to no people.
On the other hand, Old Bank, the local village in Bastimentos was a big disappointment. It's too dirty and has a general bad look on it. Still, it's a budget place to spend the night before heading to the beautiful beaches on the other side of the island.
In Bastimentos, we strongly advise you to take a full day to hike the island and discover by yourself some of its beaches. It's a real adventure a great prize in the end. Take particular note to try and get to Polo Beach.
#20 Boquete is a small mountain town located on the base of the old Baru Volcano. The whole region is famous for its many beautiful trails in the forest. You should also note that this is not an ordinary tropical forest. In Boquete, due to the altitude, you have a cloud forest, with its misty, foggy weather.
The most famous trail in Boquete is the Quetzal trail. This is an 8 km long trail where you climb from about 1800 to almost 2400 of altitude, always through the dense and humid cloud forest. This is a hard full-day trail but it's very much worth it.
#21 You cannot cross overland the border to Colombia. The Darien region of Panama is one of the most inhospitable areas on the planet. Not only the jungle is incredibly dense, but it's also very humid, muddy, and full of tropical diseases, and there are no roads to the border.
As if that wasn't enough to keep travelers away, the area is dominated by armed groups, drug traffickers, and other people that you don't want to encounter. This is one of the very few times where we advise not to visit a place.
#22 We were expecting to see a lot of American tourists – I mean the US has influenced Panama a lot, Panama is a very cool tourist destination and it's fairly close and easy. Yet, the majority of travelers we found were Europeans, mostly German and French.
Don't get us wrong, there are some US travelers in Panama, but not even close to as much as you might expect.
What to eat and drink in Panama
#23 One of the reasons we love to travel is to try new foods, particularly the traditional ones from each country. Here, we have to tell you that where Panama disappointed… a lot! We didn't even have big expectations as we had already read that food was their biggest strength.
#24 So, what's our problem with Panamanian food? In general, we felt that Panamanian food is:
unhealthy, with lots and lots of fried dishes and carbs, and lacking veggies.
lack of condiments and spices. The flavors were almost always too mild/flat.
Or maybe we were just extremely unlucky with the places we went and the dishes we tried…
#25 As always there are exceptions… and ceviche is the exception here because it was amazing! Ceviche is made with fresh raw fish cured in citrus juices and spiced with several seasonings like ají, chili peppers, chopped onions, salt, and cilantro. Although its origins aren't clear, it's believed that ceviche was created in Peru.
Anyway, one thing is certain it's a popular dish in all of Central and South America! The best place to have ceviche in Panama is the Seafood Market/Mercado de Mariscos in Panama City. This was where we had our favorite meals in Panama and a place you shouldn't skip!
#26 Other popular dishes you'll find in Panama include:
Sancocho -a traditional soup made with chicken, beef, scallion, tomatoes, and yellow onions;
Ropa Vieja – Shredded beef with spices, usually served with coconut rice and fried plantains (patacones).
Fried chicken – you can find this literally everywhere.
Fried Fish – this is usually the fish of the day, which means it's fresh, but can be any fish caught that day.
Casados – This is simply rice and beans. It's the staple side dish to many proteins, like the fried chicken and fried fish.
Arroz de Pollo – It's simply rice cooked with chicken.
#27 The street food joints in Panama are called fondas and they usually serve traditional Panamanian food for acceptable prices. You'll see them everywhere and usually a full of locals and sometimes with a few tourists.
In Panama, you will also find many street sellers selling typical international street food like hot dogs, hamburgers, and the more Panamanian fried chicken and arepas.
If you are into fast food, particularly the US chains, you are in for a treat in Panama City. There are so many fast-food restaurants, from so many different franchises… Mcdonalds, Burger King, Carls Junior, Taco Bell, Subway, KFC, Pizza hut, Domino's, and so on…
#28 As you would expect in a tropical country the fruits in Panama are amazing. You'll probably have some of the best pineapples, mangos and, watermelons in your life. Typically fruit is bright-colored, succulent, and very aromatic. They are fairly priced, almost the same prices you would find in Europe but they are so much better.
As always, we suggest you buy from local sellers instead of supermarket chains. This way you ensure getting quality local produce and giving back directly to the community.
When you find a place with amazing fruit you almost surely find also pretty good natural juices, and smoothies. In Panama, these are called sucos or naturales and batidos.
#29 Panama is famous for its intense and aromatic coffee. When traveling in Panama it's almost impossible to get by without tasting so great coffee. It's always served for breakfast but you can also find people drinking it throughout the day and even during meals.
#30 Within the Panamanian coffee we need to mention the Geisha coffee which is produced in the Boquete area. This is considered one of the best coffees in the world and it's also one of the most expensive. If you have the opportunity, try it!
If you are really into coffee and would like to learn more, there are a few coffee tours in Panama, particularly in the Boquete area.
#31 Panama is also a big chocolate producer, particularly high-quality, organic chocolate. When in Boquete and Panama City, visit one of the many coffee shops and experiment with both chocolate and coffee.
#32 Finally the water… You should note that in Panama City and other cities you can drink tap water, however, in some regions like Bocas and the Guna Yala it may not be that safe. So you may want to buy bottled water. And this is where things got a little strange…
We tried 5 or 6 brands of water and they all (except the Nestle life brand) tasted bad… earthy… as if they had dirt. I don't know if we were getting crazy or if "there's something in the water", but we definitely suggest you buy Nestle water.
Money and Costs of traveling to Panama
#33 What's the official currency in Panama? The official currency is the Balboa, however, the keyword here is official! Panama doesn't really print banknotes and the de facto currency is the US dollar, which has a fixed exchange rate of 1 USD to the local Balboa.
That being said the ATMs obviously only dispense USDs and apart from coins up to 1 Balboas you won't find any other Balboas. It's a very similar system to the one we experienced in Cambodia and Zimbabwe.
#34 What does all this mean? You can bring and use your USD freely. This makes a traveler's life easier, as you don't have to constantly do the math to check prices and are using a familiar currency with familiar banknotes.
However, you should also note that it's a good idea not to bring the bigger banknotes (50 and 100USD) or carry around lots of money. The first is because many places don't accept them or won't have change, the second is for safety reasons.
#35 One other good reason for bringing some cash from home is that you won't need to pay the ATM fees. All the ATMs we tried in Panama charged withdrawal fees, hefty ones I must add. The average fee we paid was 5 USD per withdrawal. So, we basically withdraw money as few times as we could.
#36 Somes places won't accept cards, and others won't even have ATMs. So make sure you always have enough cash to pay our bills 🙂 On a positive note, we read that some places may charge you extra for paying with a card, but we have never been asked for this and we always tried to pay with a card to minimize our cash payments.
If you are going to the San Blas, make sure you take enough cash to pay everything in cash! They don't have ATMs on the islands nor accept any kind of cards. On the other hand, in Bocas town, you have lots of ATMs and may even pay with a card in some places. Yet, if you are traveling to old Bank Bastimentos you won't have access to card payments or ATMs again.
#37 Panama is an expensive country to travel to, particularly for food, groceries, and tours/activities. Lodging is one of the few things that's actually easy to save in, as long as you don't mind staying in guest-houses and hostels.
Panama is one of the most expensive countries in Central America. Only Costa Rica is on pair or actually more expensive, than Panama.
#38 For your reference, during our travels in Panama we spent 103 USD per day, meaning 51,5USD per person per day (as a couple). It's possible, but not easy to reduce this a little – maybe 5 to 10 USD per day – but not much without ruining the trip.
Remember, we are budget travelers and as usual, this value includes every expense we had in the country: accommodation, food, transportation in the country (not flights), tours and activities, and even ATM or card fees. Within Panama, going to San Blas certainly costs extra and raised the cost per day a bit, but again: it's worth it!
How to travel in Panama
#39 Traveling in Panama using public transports is very easy. There are plenty of public transports to all the major attractions and tourist destinations, and when there aren't or take too long, there are shuttles. Furthermore, buses are cheap and will keep your budget down.
A few things to keep in mind if traveling in Panama using public transports and shuttles:
Take warm clothes when traveling in Panama on long haul buses – they put the air conditioner on the maximum and although it's like 30º outside, it's less than 15 inside! I really can't understand why…
You can buy a Metrobus card at the airport, despite what some sites say. How? Just go the machines that sell (very expensive) sim cards and buy one. They are located close to the departure doors, on the inside of the airport.
As far as I remember they cost 5USD but have 3USD of balance. Several people can use the same card.
If there aren't direct buses between towns, check the prices and time of the shuttles. It may be worth it.
We took a shuttle from Boquete to Bocas town and it was a very good business. We saved at least 3 hours and spend only 5-10 USD more…
There's only one train in Panama – to Colon, transversing the isthmus. We never took it, but it's on our Panama Bucket list. On top of being one of the most relevant railways in the world, it's said to be a very pleasant trip, and possible to do as a day trip from Panama City.
#40 We didn't feel the need for renting a car in Panama and mostly used public transportation to travel with some shuttles in between when we felt the price and time spent would be worth it. Yet, we did notice a few useful things about traveling by car in Panama:
You don't want to drive in Panama City. It may become a nightmare of traffic, but it really depends on your luck and time of the day.
Sometimes the jams, the confusion, and noise made me had flashbacks to the days I lost in Luanda's traffic jams. It's that bad.
When the traffic becomes intense, Panamanians start driving like mad people, making everything worse.
Outside Panama City, it's a completely different story. Traffic is more fluid, and everything is more relaxed.
Our suggestion is simple, rent the car only when leaving Panama City and try to get out of the city while there isn't traffic.
There are some tolls in Panama city, particularly the corredor norte and corredor sul and you have to pay them electronically.
If you are planning to drive to the Guna Yala comarca, note that the roads are all paved with some potholes, but not many actually.
The problem is that the last 30 km (i think) are really steep and winding. I suppose any car can do the road but all the tour companies do it in SUVs to make the trip easier and faster.
#41 Again, within Panama City we strongly suggest you avoid driving and use public transportation. There are plenty of options and the network works fairly well with metro, public buses, taxis, Uber (and similar), and the famous Diablo Rojos. Among these, you'll always find one or several ways to get to your destination quickly and cheaply.
#42 The infamous Diablo Rojos (red devils) are the private collective buses transports in Panama. Well, these are almost an institution or a landmark but are being substituted by normal public buses. They are old American school buses transformed into crazy-looking coletivos, famous for their bright colors.
I have to tell you, we really dig the Diablo Rojos' style with artwork-plastered bodies and crazy lights, but we only traveled once in them and it was from David to Boquete. It was a perfectly safe, relaxed and easy trip. Actually, I accidentally overpaid them and they came running after me to pay me back the change. So… yeah… make your own opinion on these, but I don't think it would happen in many other places.
Other useful information about traveling in Panama
#43 As you would expect it's fairly easy to get Wifi in Panama, every hostel, guest house, and hotel offers it freely. However, you should note that sometimes it's a bit slow and unreliable. In the San Blas islands, you won't have mobile data or Wifi at all, but that's a good thing you'll be able to truly relax.
If you need to have mobile data, you can easily buy a sim card at the airport and in many small stores around the country. However, note that the card at the airport is much more expensive. Mobile Data is actually very cheap in Panama. We bought a Movistar card and only spent 5 USD per week. Plus, with Movistar (not sure about the other) you get free data roaming in other Central American countries! We have never used other companies, but it's possible (and probable) that they have similar pricing.
#44 Most activities in Panama should be done in the morning or early afternoon. Almost every tour will start very early and the parks usually close also about 16/17:00. So expect to have to wake up very early to enjoy Panama at best.
Also, keep in consideration that at midday it may be too hot to do anything outside, and at night you shouldn't be walking around exploring, particularly in some areas of Panama City.
#45 In Panama the power plugs and sockets are of types A and B. These are mainly used in North and Central America, China, and Japan. The standard voltage is 110 V and the standard frequency is 60 Hz, also similar to North and Central America.
If you need to buy an adaptor we recommend this one.
#46 What to pack when traveling to Panama? As we said above, Panama is a hot, tropical country with high levels of humidity, and rain almost all year, but also with lots of waterfalls and amazing beaches and snorkeling spots. To cover these singularities we recommend you take these items:
Waterproof phone cover – In Panama you are always close to water, either you are island hopping, chasing waterfalls or hiking in a cloud forest, additional protection to your phone is a good idea.
Good Power bank – While traveling you may end up without access to electricity for long periods of time, so a power bank will help you make sure you always have your phone and camera working.
Lightweight Rain Jacket – In Panama, it's always possible to rain, even in the dry season. If you are planning to go to Boquete or any cloud forest then this is completely mandatory! Female Lightweight Rain Jacket
Bug repellent – As you would expect in any tropical country with diverse and vibrant wildlife, bugs are everywhere. They are also the most dangerous thing you'll encounter. Don't go to Panama without repellent.
Neck pillow – This will be useful not only during your trip to Panama but also during the long bus trips within Panama. Check here our full neck pillows buying guides.
Go Pro – It's highly probable that you'll go to beautiful places and do some adventure activities. A Go Pro is easily the best way to save those moments forever.
Waterproof dry bag – Again, if you into snorkeling or diving, or kayaking or any water activity then, you really should take a waterproof dry bag. Tip: if you get a bigger one, you may even use it as a day pack on some occasions.
Light hiking shoes or sneakers – Regardless of your type of traveler I pretty sure you'll walk a lot in Panama! However, if you want to do some trails, then you really should take hiking shoes or sneakers. Either way, make sure you choose light and cool ones.
Snorkeling gear – Panama has some serious snorkeling spots and sometimes they are just off the beach. If you take your gear you won't need to rent every time you want to snorkel. We did this and already paid off the gear with the money spent on one trip.
Light daypack – Panama is made for day trips, hiking trips, full-day tours and so on… We strongly advise you to take a small, light backpack to use on these trips. It's also very useful if you are going to San Blas, as you can leave your main pack in Panama City and only take this with you!
#47 We felt that Panama is a relatively clean country or at least one that is trying to improve in this regard. Nevertheless, in the capital, there's so much to do, with a lot of trash on the floor, namely cans and plastic bags.
In general, the tourist attractions are fairly clean, but some of the more local communities, unfortunately, are still very dirty. We were very disappointed with the ld bank in Bastimentos. The San Blas, on the other hand, is much cleaner, but again the local communities were dirtier than the islands where the tourists are.
#48 What souvenirs to buy in Panama? One of our favorite things to do in a country is buying souvenirs and gifts for our loved ones back home. Panama has some nice options of things that are easy to pack, local and cool to bring back:
Panama Hat;
Local arts and crafts, particularly from the Kuna people;
Panamanian Coffee;
Panamanian Chocolate;
Panamanian Sandals;
Top tip: Close to the Seafood market in Panama City there's a nice local artsy market where you can find nice-looking souvenirs at decent prices.
#49 Do you need a visa to travel to Panama? One cool thing about Panama is that many, many passports don't need to request a visa prior to the trip. Yet, you should note that when arriving in Panama you may be asked to show your return ticket and means of subsistence. Note: Usually it's the air company that confirms if you have a return ticket, and may prevent you from boarding.
Usually, a print of the airplane ticket and the credit card (or statement of account) with more than 500 USD is enough. Despite these rules, we didn't have any problem entering Panama, and we weren't even asked about return tickets or means of subsistence.
#50 Are there mandatory vaccinations for traveling to Panama? There aren't any mandatory vaccines to enter Panama, so you don't need to bring your International certificate of vaccination or prophylaxis. However, it's strongly advised to have all your routine vaccines in order and maybe even hepatitis A and typhoid fever. Ask your doctor about which vaccines are recommended to you!
You should also note that Malaria, dengue, and Zika have all been found in Panama. Using a mosquito net and a repellent is highly advisable.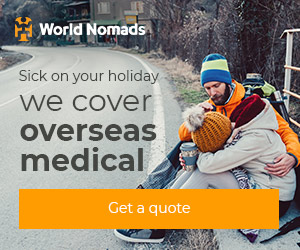 ---
In a hindsight, Panama is a great travel destination for adventure travelers and people looking for amazing beaches and incredible trails! Just our kind of place!
Recommended Travel Guide
Lonely Planet Panama (Travel Guide)
Pin for later