Costa Rica has been on tourism radar for a few years now, particularly for those looking for eco-tourism, abundant wildlife and adventure travels. In this article, we will explore everything you need to know before traveling to Costa Rica.
From the best destinations to the costs of traveling, from the history to the things you need to pack, from what to eat to the safety, this list of 50 travel tips will make your Costa Rica trip a lifetime experience.
Costa Rica and the Ticos
#1 Costa Rica is located in Central America, bordering only Panama to the South/East and Nicaragua to the North. To the west, Costa Rica is bathed by the Pacific Ocean and to the East is bathed by the Caribean Sea.
#2 The Costa Ricans call themselves the Ticos. There are almost 5M people in Costa Rica, about 2M million live in the metropolitan area of the capital San Jose.
The Population in Costa Rica is mainly Mestizos (80%) with smaller groups of Mulattos, Blacks, and Amerindians (less than 10% each).
#3 Costa Rica was a Spanish colony for hundreds of years, thus the official language is Spanish. Do not assume that everyone speaks English. Yet, in the tourism-related services, you'll find that most people do.
You should try to learn some Spanish, even if it's only a few words that may help in some situations and shows that you are making an effort to communicate. Remember a traveler is a visitor so we are the ones that should try to adapt.
#4 Ticos love to communicate and interact, particularly to foreigners. They will do small talk in almost any situation and will come to you if they are curious about something or if they feel you may need some help.
As a tourist, this is very helpful in many situations where we may be a little at lost and makes the experience of travel much more pleasant. Plus, it's heaven for all of us who love to interact with locals!
#5 Regarding the Spanish in Costa Rica there's one expression that you'll hear every day, several times a day. That's "Pura Vida", which translates literally to "pure life".
Pura vida is used for almost any situation, hello – pura vida, goodbye – pura vida, thank you – pura vida, excuse me – pura vida, You're Welcome – Pura vida… and so on…
Other very Costa Rican expressions which are very widely used are Mae = Bro, dude and Tuanis = cool, nice, ok…
#6 Costa Rica is a tropical country with hot weather all year round and very small temperature differences along the year. The main thing that creates different seasons is rain. On the Pacific coast, the dry season is from December to April, while the rest of the year is the wet season. On the Caribean side, there isn't a dry season. It rains throughout the year.
The best time to go to Costa Rica is during the dry season, December to April, particularly February and March. Moreover, that's why this is also the peak season. If you want to avoid bigger crowds, then you should travel during the wet season.
#7 As we said above, Costa Rica is all about eco-tourism, environment-friendly travel, and nature-loving trips. It's unsurprising that's one of the best places in the world to see wildlife. The whole country is boosting biodiversity, and more than 25% of its land is a National park or reserve.
#8 Costa Rica takes this issue very seriously and plans to become carbon-neutral by 2021. What does this mean? Being carbon neutral means achieving a zero net release of carbon dioxide into the atmosphere, especially as a result of carbon offsetting, but may also be achieved by simply eliminating carbon emissions altogether.
#9 Costa Rica became independent from Spain in 1821, then from the First Mexican Empire in 1823, and finally from the Federal Republic of Central America in 1838. In 1949, Costa Rica abolished its army, becoming one of the very few sovereign nations without an army!
When the army was abolished in 1949, it was said that the "army would be replaced with an army of teachers", reflecting the country's bet on education. It's also arguably the most stable country in Latin America.
#10 Is Costa Rica safe to travel to? Costa Rica is probably the safest country in Central America for travelers, even more than Panama. This doesn't mean that Costa Rica is risk-free, but compared to its neighbors, it's much safer.
Tourists are rarely involved in any kind of crime in Costa Rica, particularly violent ones. Most of these crimes occur in zones where travelers simply don't go. In General, the metropolitan zone of San Jose is the most dangerous area in Costa Rica.
During our trips to Costa Rica, we never experienced any kind of danger though reports usually refer that pickpocketing and credit card scams are the most usual crimes involving tourists. Like in almost any other country, be aware of bus stops, taxi scams, and other petty crimes, particularly in touristy areas!
As always, we advise you to have travel insurance! We never know what may happen on a trip, and to really enjoy it without being worried about what can go wrong, travel insurance is crucial – it covers not only the costs of medical problems but also theft and loss of valuables.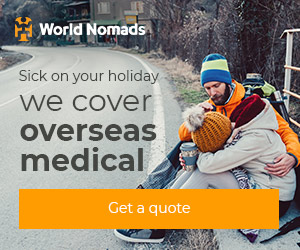 Travel in Costa Rica and Tourism
#11 Costa Rica is the most touristy country in Central America, the one that receives more tourists and the one that has prepared to attract foreign tourists, particularly from the US and Canada.
We have seen some people complaining that's too touristic, or even crowded. Honestly, I can't agree, we have been to Costa Rica in March, the highest point in the peak season, and it isn't that bad.
#12 We obviously don't have the most famous places to ourselves, but we rarely were among lots of people. And we can still find gorgeous beaches with only a handful of people.
In this regard, we have to note that Manuel Antonio is probably the exception. It can be crowded, particularly when trying to enter the park. Yet, even Manuel Antonio isn't too bad when compared to many other similar places, like the European capitals and Thailand.
#13 Costa Rica is home to 4 UNESCO heritage sites, three natural and one cultural site:
Guanacaste conservation area – contains a range of habitats, including some of the most pristine wetland forests worldwide and the best dry forest habitats in Central America.
Cocos Island National Park – has unique marine habitats for large pelagic fish such as sharks, tuna, dolphins, and rays. This is also Jurassic Park island, bus it's almost impossible to visit.
Stone Spheres of the Diquís – the only cultural UNESCO site that has weird pre-Columbian Stone Spheres.
Talamanca Range-La Amistad Reserves / La Amistad National Park – shared with Panama, covers large tracts of the highest and wildest non-volcanic mountain range in Central America.
#14 San José isn't a tourist destination, it really doesn't have much to offer apart from a few museums and parks. It isn't a particularly beautiful city, and it's definitely a very messy one, even dirty at times. If you don't have much time, you're much better off spending it elsewhere in Costa Rica.
#15 Our favorite place in Costa Rica was Cahuita/Puerto Viejo. We found that it has some of the best parks and beaches in Costa Rica, fewer people than the much more famous Manuel Antonio, and a friendlier price tag.
Puerto Viejo is a very small town that has become a backpacker destination. It's touristy but not overdeveloped. The whole area of Cahuita, Puerto Viejo, and Manzanillo has that relaxed, Caribbean vibe that we enjoyed.
#16 The main attraction of this region is the Cahuita National Park which features a huge variety of wildlife and beautiful beaches where you can rest, swim and have fun. It's possibly our favorite park in Costa Rica.
This area also has some of the best beaches in Costa Rica. Besides the beaches in the National park, our favorites were the Manzanillo and Punta Uva.
#17 The area around Arenal Volcano is one of the most visited by tourists in Costa Rica. Arenal Volcano became hugely famous during its last eruption, where you could see the red lava flooding down the volcano, particularly at night.
Today, we found La Fortuna to be a little underwhelming. You can go to the national park, where you can walk on lava rocks, and go to one of the many hot springs, but that's about it. There's nothing truly amazing about it, and unfortunately, it has become costly.
#18 Monteverde is also a destination almost everyone travels to in Costa Rica. This mountain region features several parks and reserves located in cloud forests. Cloud forests are subtropical or tropical evergreen montane moist forests with high levels of mist or cloud cover, mostly at the canopy level of vegetation.
In Monteverde, there are three cloud forest parks: The Monteverde reserve, the Santa Helena Reserve, and the children's eternal reserve. All of them offer incredible views and the opportunity of hiking through dense mist tropical forests while trying to see some of the wildlife.
We did the Santa Helena cloud forest reserve and really enjoyed it. It has few people than the more famous Monteverde reserve and offers basically the same experience. Unless you have unlimited time and budget, I don't think it's worth it to do more than one of the parks. However, Monteverde is a mandatory destination in any Costa Rica Itinerary.
#19 You should note that going to Monteverde is an experience in itself, and you should think about it in those terms! The road is unpaved, and it takes at least one hour to drive the final 20 km. When we did it, the road was actually OK, it was wide, it wasn't steep, but it's a very hard road with lots of gravel.
If you are planning to drive there, you should take a 4×4. We did it during the dry season, and it was doable with a small car, but it takes soooo much time, and it's so stressful that we don't really advise you to do the same. Alternatively, you can take a bus to Monteverde from several towns, including Punta Arena and San Jose.
#20 Manuel Antonio National Park is the most famous and most visited park in Costa Rica. It's also one of the smallest. All this together means that the park can be very crowded, too crowded for a real nature experience. However, it's still a very nice walk through the forest, and you do see lots of wildlife. After all, there are 109 species of mammals and 184 of birds in Manuel Antonio. We saw several species of monkeys, coatis, raccoons, two sloths, and several other animals that we don't even know the names of.
The Park also features one of the best beaches in Costa Rica and, according to TripAdvisor, one of the best in the world. It's a very nice beach to rest, swim and have fun. Just be careful with your belongings, both monkeys and raccoons may assault them… Believe me, it happens…
#21 Dominical is a very small town on the Pacific coast located less than 50 km south of Manuel Antonio. This is a rather unique place, with many many foreigners and a very hippie vibe. It has a huge beach and a crafts market that sells everything. It's a great place to buy souvenirs. Similarly to many other towns in Costa Rica, Dominical is a good place to surf but also one of the best destinations to do a Yoga retreat in Costa Rica.
South to Dominical, there's Punta Uvita and the Marino Ballena national park, which we heard it is pretty cool, but we haven't visited yet.
#22 One of the main reasons to visit Costa Rica is its wonderful beaches. We have already talked about some of the most famous, like Manuel Antonio or Punta Uva, but the thing with Costa Rica is that you can find these incredible deserted beaches anywhere.
One of our favorite times in Costa Rica was spent at a beach where we stop for lunch and ended up staying for a few hours because it was so damn pleasant. So, one of our best tips for Costa Rica is for you to leave some free time to be able to make these unexpected stops. Oh, the beach was Playa Galardonada…
#23 The national parks, the forests, and the biodiversity is probably the reason why you want to go to Costa Rica. Plus, you surely want to see wildlife. However, they don't want to see you, they want to get on with their life… (apart from some monkeys and raccoons that learned that we are a source of food.)
So, if you want to see them, you need to be quiet, don't make noises, go slowly and try to listen to the noises to find where they are. For example, Sloths are particularly difficult to see, they are masters of disguise and camouflage themselves perfectly. It's very difficult to see sloths without trained eyes or a guide.
Important note: Please do not feed the animals, do not touch the animals.
What to eat and drink in Costa Rica
#24 Remember when we said that the food in Panama wasn't particularly good…? Well, the food in Costa Rica is better than in Panama, but it isn't one of our favorites either. Central America Cuisine doesn't seem to be our cup of tea. There are too many fried dishes, too many carbs, and too little fresh food and veggies.
#25 Gallo Pinto is the most important and popular dish in Costa Rica. On restaurant menus, it usually appears as a breakfast dish (and that's when it's more traditional), but it's perfectly normal to eat it at any time of the day.
So, what's the Gallo Pinto? It's simply rice and beans mixed and fried together until almost toasted – usually more rice than beans. It may be served with eggs and cheese or even chicken, beef, or fish.
#26 One other thing you'll find in almost every Tico restaurant is casados. Casados isn't a dish per se, but a side dish. You can have casados with fried chicken, with fish, with beef and many other things.
So, what's casados? To put it simply, it's a fixed pairing of white rice with a side of savory black beans (mandatory), a vegetable side (like cabbage slaw dressed in citrus), and a protein of your choice.
#27 Pico de gallo is another side dish very popular in Costa Rica. It's made of raw, chopped tomatoes, onions, hot chili peppers, and cilantro with lime juice. It's popular in other Latin American countries as well, particularly Mexico, where it originated.
We really enjoyed this side dish due to its punchy, strong flavor, which, combined with its freshness, tastes amazing, especially in contrast with all the fried food.
#28 Other dishes you may find and try in Costa Rica include:
Ceviche Tico – It's usually made with sea bass mixed with diced red onion, and cilantro, and marinated in citrus juice. It's light, clean, and refreshing.
Chifrijo – a dish of rice topped with black beans, pork bits fried twice, and the above-mentioned pico de gallo.
Olla de Carne – a soup (or stew?) made with cassava, carrots, corn, plantains, and taro root.
Patacones – a side dish or snack that consists of deep-fried plantains.
Fresh fish and seafood – When in Costa Rica, you have the opportunity of eating some quality, fresh seafood, particularly when close to the coasts.
Many many Mexican dishes – We really really enjoyed our Azteca Soup, and the guacamoles were usually also pretty decent.
#29 If you want fast and cheaper food, you should keep an eye out for the word "Soda". This is where locals (and some tourists) eat and where you can find the best deals. However, even in Sodas, you should expect to pay at very least 5 USD per plate.
One other thing about Costa Rica is the number of fast-food restaurants… They are everywhere, and with so much variety! It really impressed us, how can such a small country have so many fast foods… We suppose Costa Rica is becoming more and more Americanized.
#30 When it comes to drinks, there's one thing that you'll most surely try: Fresh juice or Naturales. The variety and quality of the naturales in Costa Rica are staggering… You can find them everywhere, in every restaurant, and they are always good and, most times, amazing.
The most popular juices are banana, pineapple, papaya, watermelon, and mango, but you can usually find Cas (sour guava), passion fruit, guanábana (soursop), mora(blackberry), tamarindo (tamarind), and so on. Top tip: if you find Cas, give it a try! It's so good and fresh.
One other thing, naturales are actually cheap! Sometimes they are even the same price as a bottle of water! So, make the most of it, there aren't many cheap things in Costa Rica.
#31 Coffee and Chocolate are some of the most famous and best products in Costa Rica. They are also part of the history, culture, and heritage of the country. You can even do some tours that focus on the processing methods of these crops.
While traveling in Costa Rica, you can and should try these. There are plenty of organic chocolates and Coffees. For example, you can buy a 100% chocolate bar or even roasted cacao beans… It's pretty cool! Oh, cacao beans have a very intense but bitter flavor!! You have been warned… 🙂
#32 Is it safe to drink tap water in Costa Rica? Generally, it is safe to drink tap water in Costa Rica, maybe except in very rural and undeveloped areas. If you want to play safe, you can buy bottled water.
Money and Costs of traveling to Costa Rica
#33 The official currency in Costa Rica is the Colon. The exchange rate is about 570 colones to 1 USD in Julho 2019. Due to the huge importance of the tourism sector in Costa Rica (particularly from the US) and the number of expats living there, most places will accept US Dollars as a means of payment.
#34 Even ATMs will dispense USD and colones, which is nice for those who don't want to use colones. This way, you don't have to bring so many USD with you.
Some ATMs charge a fee per withdrawal, some don't. If you want a few dollars, you need to be mindful of this. Here is the list of banks who charge an atm fee and the fee:
Banco de Costa Rica (BCR): no fees
Banco Popular: no fees
Scotiabank: ₡1500 per withdrawal (around 2.50 USD)
Cathay Banco: ₡1500 per withdrawal (around 2.50 USD)
Davivienda: ₡1500 per withdrawal (around 2.50 USD)
Banco BAC Credomatic: $5.00 per withdrawal (around 3000 CRC)
#35 We said earlier that you could pay almost everything in USD, but that doesn't mean you should! The official currency is still the Colon, and you'll get a better price 99% of the time in colones just by using them instead of USD.
We have saved up to 10% for paying for things in colones. If you think it might be the case, ask for the price in both currencies or the exchange rate. If it's below the official one, you win, if it's above, you lose.
#36 Visa and MasterCard cards are accepted in many places, yet I wouldn't rely on them completely. You'll still find many guest houses/hostels, small restaurants, and shops that will only accept cash.
To reduce the money we carry around, we always prefer to pay with a card. In Costa Rica, we were never asked for an extra fee to pay with a card, which is nice!
#37 Costa Rica translates to Rich Coast, but expensive coast would be a fit also… Costa Rica is probably the most expensive country in Central America and Latin America. We believe that Ticos found out that they could "overcharge" tourists and get away with it because the country is so damn beautiful. So, they do it.
During our stay in Costa Rica, we spent about 120 USD per day, meaning 60 per day per person (traveling as a couple). Remember, we are budget travelers staying in guesthouses/hostels and eating on Sodas. It's probably possible to reduce this value by up to 5 to 10USD, but not more than that! As you can see, our Costa Rica travel costs are already way above average.
#38 Despite being generally expensive, some things will weigh much more on your budget – tourist attractions and tours are extremely expensive. The simplest tour will cost 25-35 USD per person, while some other day tours go up to 100 – 150 USD per person. Entry tickets to the most famous attractions will cost 10 to 16 USD.
Then comes the food, even in sodas, you'll pay at least 5-6 USD per dish. Plus, in other restaurants, it's impossible to eat for less than 10-15 USD per dish. While it's easy to pay more than 20 USD… Furthermore, if you decide to cook yourself, you'll see that things in supermarkets are expensive, even fresh and local ones.
However, we should note that there are some affordable things in Costa Rica, like accommodation and fuel. In Costa Rica, we paid between 15 and 30 USD per night (for two), which is fairly inexpensive. While fuel costs about 1 USD per liter, which is pretty cheap compared to Europe's prices.
#39 When it comes to tipping, you should know that there's no need to tip. Most restaurants charge a 10% service fee. Note that this fee isn't included in the prices on the menu.
Also, there's a 13% VAT tax, which sometimes isn't included in the many, which makes it even more confusing. When looking at the menu, make sure that you understand if it's all included or if you need to add 10% or 23% (tax + service fee).
Honestly, it's very confusing at first, and if you aren't prepared for it, you may be conned. At least, I'm pretty sure we were the first time, before researching exactly how it works.
How to travel in Costa Rica
#40 Costa Rica is a small country, but it takes much longer than it seems to get around. Also, this tip is valid for both public transport and driving yourself.
You may be tempted to think you can do all of Costa Rica in 7 or 10 days, but you are wrong. Keep your itinerary with 4 or 5 destinations, or you'll be driving all the time, not having much fun!
#41 Public transportation is actually fairly easy to use. There are public buses to all the major tourist attractions plus they are also cheap, which will help keep your travel costs down.
The major drawback is that most buses are from/to San Jose. This means that you may have to return to San Jose between destinations, which makes you lose lots of time. However, when it's the case, there's always the option to catch shuttle buses.
#42 We haven't used San Jose's bus system, so we can't advise you on that. However, you should know that taxi drivers in Costa Rica, especially in San Jose, don't have a good reputation. Instead, we advise you to use UBER or a similar service.
#43 Renting a car in Costa Rica may actually be a good idea, as long as you don't plan to drive in San Jose. Driving gives you all the freedom you need to explore the country, allowing you to go everywhere, whenever you like.
Yet, people make a huge deal of renting a car and driving in Costa Rica. Why? Well, there are a few things you should keep in mind:
Car renting in itself isn't that expensive, the problem is the insurance. You won't be able to find unbelievable deals in Costa Rica.
If you do, you'll most probably have hidden fees later.
Insurance is mandatory, but it's confusing as so many options exist. We opted to be fully insured and don't think about it anymore. We suggest you do the same.
Most of the main attractions can be done with a normal car, but an SUV makes everything easier. If you are traveling to Monteverde, then you should hire a 4×4.
We used tricolor to hire our car, and were very satisfied. They were very clear about all the fees, not hidden stuff, and had an affordable price.
Driving in Costa Rica may be a problem, but it isn't as bad as people make it. However, if you aren't experienced in driving in a more chaotic environment, drive defensively.
Ticos are very relaxed unless they are behind the wheel.
San José is very messy, to say the least! If you really have to drive there, try to go on weekends. Sunday mornings are a good option… 🙂
Most roads are paved, but you can still find a few gravel roads, where you should drive very carefully.
In Costa Rica, police can legally stop any car and ask for papers.
Other useful information about traveling in Costa Rica
#44 Every hotel, hostel, or guesthouse will have free Wifi; however, other places may not. Don't expect to have wifi at tourist attractions. If you need to have constant access to the internet, you should buy a data sim card.
We bought a Movistar card, and we were very pleased with it. We had internet basically everywhere, and it was a good value for money. Plus, with Movistar, you get free data roaming in other Central American countries! We have never used other companies, but it's possible (and probable) that they have similar pricing.
#45 Costa Rica is generally clean, and it's a country that is clearly making an effort to become more and more eco-friendly. You'll see signs saying "no basura," "no trash" everywhere, and you'll notice that they are also implementing recycling. There's way too much plastic, though, particularly non-reusable plastic. Overall, it's good to see that Costa Rica is putting efforts in the right direction.
In fact, a trip to Costa Rica is a great opportunity to learn more about responsible travel and be inspired to use more responsible travel products.
#46 What to pack when traveling to Costa Rica? As we said above, Costa Rica is a hot, tropical country with high levels of humidity and rain throughout the whole year, but it also has lots of waterfalls, fabulous beaches, and snorkeling spots. Thus, we recommend you take these items:
waterproof phone cover – In Costa Rica, you are always close to water, whether you are on the beach, or hiking in a cloud forest, additional protection to your phone is a good idea.
A Good Power bank – While traveling, you may end up without access to electricity for long periods of time, so a power bank will help you make sure you always have your phone and camera charged.
Lightweight Rain Jacket – In Costa Rica, rain is always a possibility, even during the dry season. If you are planning to go to a cloud forest, then this is completely mandatory! Female Lightweight Rain Jacket
Bug repellent – As you would expect in any tropical country with diverse wildlife, bugs are everywhere. They are also the most dangerous thing you'll encounter. Don't go without a repellent.
Neck pillow – This will be useful not only during your trip to Costa Rica but also during long bus trips within the country. Check our neck pillows buying guides here.
Go Pro – It's highly probable that you'll visit beautiful places and do adventure activities. A Go Pro is easily the best way to save those moments forever.
Snorkeling gear – Costa Rica has some serious snorkeling spots, and sometimes they are just off the beach. If you take your gear, you won't need to rent it every time you want to snorkel.
Waterproof dry bag – Again, if you are into snorkeling, diving, kayaking, or any water activity, you really should take a waterproof dry bag. Tip: if you get a bigger one, you may even use it as a day pack on some occasions.
Light hiking shoes or sneakers – Regardless of the type of traveler you are, I'm pretty sure you'll walk a lot in Costa Rica! However, if you want to do some trails, then you really should take hiking shoes or sneakers. Either way, make sure you choose light and cool ones.
Light daypack – Traveling in Costa Rica is doing day trips, hiking trips, full-day tours, and so on… We strongly advise you to take a small, light backpack to use on these trips.
Reusable water bottle – Costa Rica is working hard on its environment-friendly policies, so as tourists, we should respect and try to avoid using plastic. One easy way of doing so is by using reusable water bottles.
#47 The power plugs and sockets in Costa Rica are of type A and B. These are mainly used in North and Central America, Japan, and China. The standard voltage and the standard frequencies are 110 volts and 60 Hz, also similar to North and Central America.
If you need to buy an adaptor, we recommend this one.
#48 One cool thing about traveling to Costa Rica is that many, many passports don't need to request a visa prior to the trip. Yet, you should note that when arriving in Costa Rica, you may be asked to show your return ticket and provide proof of means of subsistence. Usually, a print of the airplane ticket and the credit card (or statement of account) with more than 500 USD is enough. Note: Usually, it's the air company that confirms if you have a return ticket and may prevent you from boarding.
Despite these rules, we didn't have any problem entering Costa Rica, and we weren't even asked about a return ticket or means of subsistence.
When leaving Costa Rica, you have to pay a departure fee of 29 USD. Well, at least that is what every site on the internet says… We were never asked for this. It's weird, but that's what happened to us.
#49 There aren't any mandatory vaccines to enter Costa Rica, so you don't need to bring your International certificate of vaccination (the yellow booklet). However, it's strongly advised to have all your routine vaccines in order, and maybe even hepatitis A and typhoid fever. Ask your doctor about which vaccines are recommended to you!
Finally, you should be aware of mosquitos! Malaria, Zika, and Dengue are all transmitted by mosquitos, and all exist in Costa Rica. The best prevention against these diseases is to cover up with long sleeves and DEET repellent.
#50 One of our favorite things to do in a country is buying souvenirs and gifts for our loved ones back home. Costa Rica has a few fine options of things that are easy to pack, local and cool to bring back:
Our Recommended Costa Rica Travel Guide Books
Fodor's Essential Costa Rica 2019 (Full-color Travel Guide) – written by locals and very up-to-date. This is great if you are planning to travel to Costa Rica only.
Lonely Planet Central America (Travel Guide) is a great alternative if you planning to travel to other Central American countries. And if you do, you should have a look at these Panama travel tips.
Pin it for later