Penang and Langkawi are two of the best tourist destinations in Malaysia. Both islands offer good beaches, nice nature walks, tasty food, and fairly cheap prices.
You may be wondering which one you should visit, or if you could visit both! Well, the good news is that from Penang to Langkawi (or the other way around) is only 119 Km which makes the trip possible and even desirable.
Thus, if you decide to visit both, you'll need to travel between them and here we will explore how to travel between Penang and Langkawi by ferry, which was our chosen method (but we will also explain some other options).
Is there a direct ferry from Penang to Langkawi?
YES! You can catch a ferry in Penang directly to Langkawi, without returning to the mainland
Where to catch the ferry in Penang? and in Langkawi?
In Penang, you'll catch the ferry in the Georgetown jetty, which is about 10 minutes walking from most of the guest houses, and the center of the town. Very practical, and very easy. There are also several buses that pass through very close to it.
In Langkawi, you catch the ferry in Kuah. The jetty isn't as close to the center, but it's still walkable. We did it, but it does take some time and you may prefer to just take a taxi. Mostly because you probably won't be staying in Kuah…
At what time are the Langkawi-Penang ferries?
There are two daily ferries each way, 14 one-way trips per week:
From Georgetown (Penang) to Kuah (Langkawi)
From Kuah (Langkawi) to Georgetown (Penang)
How much does the Penang to Langkawi ferry cost?
A ticket (either way) costs 60 RM per person + 10RM per person of port tax in Penang. If you want a return ticket it's 120 RM (+ 20 RM).
Note: As of Jan 2019 1 USD = 4.1 RM
How long does the ferry between Langkawi and Penang take?
The full journey is around 2 hours and 45 minutes. However, you should note that depending on the weather conditions it may take a bit longer. If the water is rough the ferry can't sail as fast.
Check below if you want a shorter ferry ride or no ferry at all.
Where to buy the tickets?
In Georgetown, you'll find operators selling tickets very close to the jetty. It's fairly easy to spot them. In Kuah, the sellers are just outside the (weirdly not inside!) main terminal building, across the road, behind the KFC.
You can also buy them online.
Is the Langkawi-Penang ferry safe?
Yes! The ferry is perfectly safe. As we discussed here, Malaysia is a very safe country and this is no exception. Everything is free from danger. Even the areas surrounding the jetties are pretty secure. At least we have never faced anything remotely harmful.
However, you will find lots of taxis in Kuah asking if you need a lift, but they aren't pushy.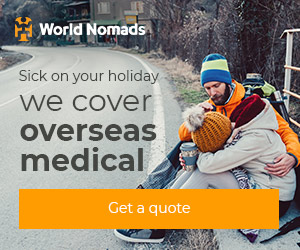 Is the Langkawi-Penang trip comfortable?
Well, the ferries are actually very fast and take a lot of people. The conditions inside are okay, nothing fancy but comfortable enough for a relaxed trip.
On the other hand, the trip itself may be a bit bouncy. I suppose it comes with the territory of being a high-speed ferry. Thus, if you suffer from seasickness you may want to consider the alternatives below.
Important note: Take food and drinks with you for the voyage because there's no one selling them inside the ferry.
Alternatives to the direct Penang-Langkawi ferry
Yes, there a few alternatives to the direct ferry. You can either have a shorter ferry ride from one of the other two ports in northwest Malaysia or even fly between the islands.
Besides Georgetown, you can reach Langkawi by ferry from Kuala Perlis and Kedah. These alternatives are pretty good if you want to reduce your time on a ferry. They are also cheaper, but you need to take more than one transport which can be tiring and takes time.
Bus+ Ferry between Langkawi and Penang
Bus + Ferry: Georgetown-Kuala Perlis-Langkawi
On this option, you need to take the bus from Georgetown to Kuala Perlis and then take the Ferry to Langkawi. The ferry from Kuala Perlis to Langkawi costs 23 RM and takes about 1h 45 minutes. There are ferries almost every hour.
Bus + Ferry: Georgetown-Kedah-Langkawi
Here you have to take the bus from Georgetown to Kuala Perlis and further take the Ferry to Langkawi. The ferry from Kedah to Langkawi is much closer and takes about 1h 15 minutes and costs 18 RM. This ferry to Langkawi operates every hour from 7 am to 7 pm.
Flying from Penang to Langkawi
If you don't want to take a ferry at all you still can travel between Penang and Langkawi as there's a pair of operators that offer flights between the islands.
The fares of these fights are surprisingly cheap if bought well in advance. Plus, being so close to each other means that the flight is quick. Yet, this isn't our favorite way to do this trip. You need to take into account the time you lose going to and from the airport and its costs. This is an even bigger concern because in Langkawi there isn't a real public transport system.
Nevertheless, if you don't want to use a ferry, this is a great option and less expensive than you might think!
Things to know when traveling to Langkawi
Langkawi doesn't have a public transport system so you'll have to rely on the expensive taxis or shuttles.
Langkawi is a tax-free area, and that really shows in Kuah with all the airport-like shops.
Langkawi is really close to Thailand and it's very easy to travel to the idyllic island of Koh Lipe (for example)
The beaches in Langkawi are better than in Penang but aren't as good as in Koh Lipe (for example)
The Skycab and Skybridge are worth the visit, the views are amazing.
Despite the above referred the best attraction in Langkawi is easily the Kilim Karst Geoforest Park. If you going to Langkawi you have to take a full-day tour to it.
Things to know when traveling to Penang
It's really easy to travel around Penang, particularly within Georgetown and surroundings. The public transportation works well.
Georgetown is a big city and an important one historically. It's a UNESCO Heritage site together with Malacca.
Georgetown is one of the places to eat in Malaysia, if not the best.
Penang National Park has the best beaches in Penang and it's a great hiking spot.
On the other hand, we didn't like the beaches in Batu Ferringhi very much. It's dirty…
Georgetown has a huge street art scene, particularly 3D art. It's really fun going around town discovering the 3D art.