The Bosphorus Express is the daily train that connects Bucharest to Istanbul, obviously going through Bulgaria in between. This train partially revives the famous Orient Express and connects Istanbul to Europe (the rest of Europe).
Here we will explore everything you need to know before doing the Bosphorus express, either Bucharest-Istanbul or Istanbul-Bucharest. From tickets and timetable to the train and journey itself.
Is the Bucharest-Istanbul train working?
As per 2018, the train is running! Although, it won't take you all the way to Istanbul-Sirkeci. The train stops at Istanbul-Halkali which is about 25km from the center. However, you get a free shuttle bus ride from the Turkish railways to the central station, Istanbul-Sirkeci! It's a bit of a bummer, but it runs well enough, and you'll get there smoothly. This is not something you'll need to worry too much… In Romania the train starts (or finishes) in Bucharest's main station, Bucharest Nord.
How to buy tickets to the Bosphorus express?
You can only buy tickets to the Bosphorus Express at the railway stations, in Bucharest and in Istanbul. Note, that if you want to do a stop-over in Bulgaria, you'll need to buy tickets to the Bulgarian town and then buy another one from them to Istanbul. Furthermore, be aware that not every station in Bulgaria sells international tickets, only the bigger ones. For example, in Veliko Tarnovo you can't buy the tickets, you need to go to Gorna.
When buying tickets double check if you are given the right tickets and when you are traveling with other people check if you are all together. They mess up the tickets quite a lot! I have seen tickets to seats that don't even exist… and no one seemed too bothered…
What's the timetable?
This is a night train and a quite long one! It has to go through 4 border crossings and changes locomotive a few times also. All in all, it takes about 20 hours to do roughly 830 km. You may want to consider having a side trip through Bulgaria.
The Bucharest-Istanbul train leaves Bucharest at 12:45 and arrives at Halkali at 7:50. Then it should take you about an hour to get to the central station on the free shuttle. If you are doing this from Istanbul to Bucharest, the train leaves Halkali at 22:40 and arrives Bucharest at 19:00!
How is the Bosphorus Express train?
First of all, you should know that you can't buy seat tickets for the whole journey. Your options are 4 and 6-berth couchettes without a bathroom, or private sleepers for 1, 2 or 3 persons, with private bathrooms. Nevertheless, if you are not doing the whole journey it is possible to use seats.  It's really complicated, it's better if you ask at the ticket office if your partial trip can be made without buying the sleeper or couchette.
Overall, the train is a bit dated but still fairly comfortable. Compared to the Ister, for example, it felt older and the beds less comfortable.
Which type of seat should I choose?
As we said above there are 4 and 6-berth couchettes. Among these, you definitely should choose the 4 berth ones as 6 people in such a small space become very crowded and probably difficult to rest. The exception is if you are traveling in a group of 6. Between the sleepers and the couchettes, the main difference is the bathroom and obviously the comfort of having it only to yourselves. As per the bathroom, I honestly don't think you gain too much in having it for yourselves as the public ones are fairly clean and more than enough. So unless you are a really private person, you should be fine in a 4-berth couchette…
You should note that the couchettes have electric plugs, which is great, but you may consider bringing a triple outlet. Furthermore, the couchettes have an automatic air conditioner which makes it even better. On the downside, it doesn't have Wifi!
How are the shared bathrooms in the train?
Each coach has 2 shared bathrooms on the ends. They are very small,
similar to the ones we find in airplanes. They are obviously cleaned regularly because we never found them very dirty. However, don't forget to take toilet paper, sometimes they have, sometimes they don't. You really don't want to try your luck here, do you? 🙂
How is the Bucharest-Istanbul train experience?
Compared to the Ister, we believe that the Bosphorus Express is slightly less comfortable and the border crossing is longer and at a much worse time.
Yet, we really enjoyed this experience, but you should note that we really like traveling by train. After all, it's the civilized way to travel, isn't it?
How's the Bucharest to Istanbul journey?
The train leaves at 12h40 which is a fairly nice hour, and allows you to easily get to the train station, have lunch and buy food to the trip in the station. Bucharest Nord is a pretty big train station, with supermarkets and several fast food restaurants and local food stalls. It should be fairly easy to buy supplies for the trip!
Soon after entering the train and getting to your seats you'll find the train steward and he will get your tickets and confirm that you are correctly seated (Hopefully your seat exists :D, yeah I'm not forgetting this one for a while… ). Soon afterward he will bring you pillows, linen and a nice gift from the Turkish railways: Turkish juice, Turkish cookies, and water.
How's the Romania/Bulgaria Border Crossing?
The first part of the journey is very flat with long plains of fields and nothing really happens until you get to the Romanian/Bulgarian Border. Here, you'll need to cross the border and this takes about one hour. This is very easy but first, you stop in Giurgiu and need to exit Romania and only then enter in Bulgaria in Ruse. Border police from both countries are very polite and simply take your passports, scan them and give it back. You don't even need to leave your seats. As simple as it could be, remember that neither of the countries is fully on the Schengen agreement.
Soon after entering Bulgaria the terrain becomes more rugged but while this happens it also becomes darker and you can't really see much. It's quite a shame because you get through some beautiful Bulgarian mountains and can't really see it! Note that the train halts for more than one hour in Gorna to change locomotive and to separate the cars that go to Istanbul from the ones that go to Sofia. The rest of the trip in Bulgaria is done at night and you can't see much. You arrive the Bulgarian/Turkish border at 1 am.
How is the Bulgaria/Turkey border crossing?
This border takes much longer, because of the Turkish side. Leaving Bulgaria is similar to the previous experience of entering Ruse, but when getting in Turkey you need to exit the train and go to the border control queue, which takes a while. There, you get your passport and e-visa checked, probably they will ask how much time you'll be in Turkey and the address you'll stay in. It takes more time, but it shouldn't be complicated. The worst part is that it's very late at night (around 2 am) and you would rather be asleep, resting.
Later, you get back to the train, the Turkish customs officers will check the train and may have a look at you and or ask something but soon you'll be back traveling to Istanbul. It should take another 5 hours to Halkali, where you leave the train and get the shuttle bus. In Meantime it's finally time to get some sleep.
Roughly at 8 am you arrive at Halkali and the Steward takes you to the designated shuttle that will take you to Istanbul central station. It's fairly quickly, taking about one hour to get there. At about 9 am you arrive at your final destination, Istanbul central station!
What to do in Istanbul?
When arriving at Istanbul, we strongly advise you to proceed to the tourist office next to the station and buy the local public transport card. If you need to take a cab, make sure you chose one that uses the taximeter instead of negotiating the fare! It's always cheaper! Or maybe get an Uber.
We strongly advise you to stay in Istanbul center, particularly in Sultanahmet! Sultanahmet is where some of the most famous landmarks are located and it's easily accessible. It's also full of hotels and guesthouses ranging all prices. Feel free to use the box below to book your hotel!
We suggest you try the Big Bus tours, available in Istanbul. They take you to all the best attractions, provide great information all with WIFI on board! Click here to check it out!
Finally, this is a long journey that goes through 3 countries in 2 days, so don't forget to travel with insurance. The trip is fairly safe, but we never know what may happen! And whatever happens, it's always better to be insured.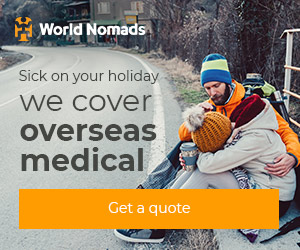 Pin for later