Budapest and Bucharest are two of the biggest cities in Eastern Europe.
They are becoming more and more popular among tourists (particularly Budapest), but this post will be more about the trip than the cities. We want to tell you everything you need to know to travel by train between Budapest and Bucharest. Though, if you are traveling from Budapest to Bucharest, you might as well take the opportunity to visit Bucharest and Budapest.
Note: you can as easily do it backwards, from Bucharest to Budapest.
What's the train between Budapest and Bucharest?
The train connecting these two cities is usually called the Ister express, EN 473 (EN472 if doing it Bucharest-Budapest). It's an intercity train that stops many times along the way(that has many stops along…). Alternatively, you can use the train connecting Vienna to Bucharest, which stops in Budapest. This train is called the Dacia Express, EN 347 (346, if doing it Bucharest-Budapest).
Fun fact: Ister is the ancient name for the River Danube.
At what time is the Budapest-Bucharest Train?
First, we should point out that both are night trains! The Ister leaves at 19:10 and the Dacia at 22:04. They take the same 16hours and 55 minutes, the Ister arrives at 12:05 and the Dacia at 22:00! They are both daily trains, available every day.
Both trains leave from Budapest Keleti and arrive at Bucaresti Nord.
How is the Budapest-Bucharest train?
As we said above, the Ister is a night train and it has several different coaches and seating options.
The train connecting Bucharest and Budapest is somewhat aged but is still in very good condition. In fact, it was more comfortable than we expected. You can buy the seat only or buy the sleeper carriages with couchettes or with beds. There are 4-berth couchettes, 6-berth couchettes, both with a shared bathroom. If you want a private bathroom you need to buy a sleeper ticket with 1, 2 or 3 beds.
First of all, this is a long trip and unless you are on a really (and I mean really!) tight budget I strongly suggest you go with a couchette. If its a group of 4 or 6 it really should be a no-brainer 🙂 Between the 4 and the 6-berth, I think the 4 berth is a much better choice. The 6-berth is really crowded and that many people in such a small place mean that sleeping will be difficult.
How do the couchettes look like?
The 4-berth couchette was surprisingly comfortable, with air conditioner and more space than what we expected. The layout is simple, with seats that convert into 4 berths, looking like 2 bunk beds. You are provided with sheets and a pillow to make the experience comfy. Furthermore, the couchettes have an automatic air conditioner which makes it even better. Finally, each couchette has one electric plug which was a very nice surprise, and there's also a few in the corridor.
We have never tried the private sleepers, so we can't really tell you how much better it is and if it's worth it or not! If anybody has tried it, I would really love to hear from you…
The coaches have 2 shared bathrooms on each end of the coaches. They are very small but fairly clean, similar to airplane ones. Tip: Don't forget to take your own toilet paper, sometimes they have, sometimes they don't… you don't want to try your luck, do you? 🙂
Finally, note that we never did the Dacia train. All information here is about the Ister train to Bucharest! If anyone tried the Dacie, feel free to comment below.
How is the Budapest-Bucharest train trip?
The trip starts in Budapest-Keleti and fortunately, it's very easy to get to Keleti as there is a metro station right next to the train station. To get there you just need to get to metro lines 2 or 4. Keleti train station tends to be a little messy in peak hours particularly when there are too many tourists There are several supermarkets, bakeries and fast food joints where you can have dinner and buy food for your long journey.
As we said above, these are night trains and they depart at night so unfortunately in the first hours you won't be able to enjoy any scenery. In fact, you won't be able to see anything in Hungary at all. A few minutes into the trip the Stewert will come to check your tickets. Note that he will keep it until the end of the trip.
How's the border crossing between Hungary and Romania?
The border crossing happens around midnight and takes more than an hour. Note that Hungary is part of the Schengen area and Romania isn't! So you need to exit Hungary, and then enter Romania. The whole border process is very simple and you don't even need to leave the train or your compartment. The officer asks for your passport, scan it in a portable machine and you are done!
The voyage is very smooth, much more than I expected and than the Bucharest – Istanbul one! I usually have trouble sleeping, but this time I slept rather well. The beds were comfortable, wide enough but a little short! I suppose people taller than 180cm could have problems…
In the morning one can have a coffee in the bar and enjoy the wonderful Alpine scenery of the Carpathian mountains, particularly the stretch between Braşov and Bucharest. Note: You can pay using Euros or Leus, but you can't use a card.
Should I take entertainment on this trip?
YES! Don't forget to take entertainment with you! A book, a laptop, cards… anything! It will be a very very long trip if you have nothing to do! And, as we said above you have an electric so you can recharge your phone/laptop/tablet!
Is the Budapest-Bucharest train trip safe?
You may be wondering if this trip is safe… We can only say that it was perfectly safe for us. We weren't bothered at all! You can lock your compartment during the night, so you can sleep relaxed. We were a little worried because we read a few bad reviews about night trains in eastern Europe, but we never had any problem or seen anything that could indicate a problem.
No matter how safe a trip is, we always recommend you to buy travel insurance!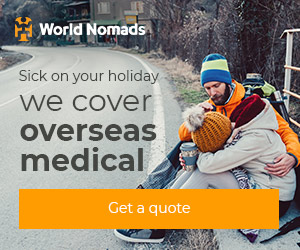 How to buy Budapest-Bucharest tickets?
Everyone will tell you to buy them on the spot! We do agree that most of the time it will be your best option, but you need to take a few things into consideration:
If you buy locally you may have access to a discount price, which makes the trip much cheaper;
However, you may also get there and the tickets are sold out; This is very unlikely during most of the year, but in peak season, it may happen;
Tickets with a discount may have all been sold and now you have to buy more expensive ones!
All in all, we suggest you buy beforehand if you are traveling in the Summer. If it's low season you are probably safe buying directly in Budapest. Anyway, note that you are taking a risk!
What to do when I arrive at Bucharest ? and at Budapest?
In Bucharest, you arrive at Bucharest Nord, which is close to the city center but not close enough to walk. In Bucharest, we advise you to use Uber. It's so cheap and easy to use. We strongly recommend you to stay as close to the center as possible. It's where everything happens and where almost all the tourist attractions are. You can search for hotels, hostels, and apartments in the box below.
Pin it for later