Kutaisi was founded around 4 millenniums ago making it one of the world's oldest continuously inhabited cities. It is located in Western Georgia about 221 kilometers (137 miles) of Tbilisi, on the Rioni River. There are several natural, historical and architectural attractions within reach of the city. It is one of our favorite spots in Georgia so we decided to bring you a list of the best things to do in Kutaisi.
Kutaisi is the capital of the western region of Imereti and the traditional rival of Tbilisi for the capital status of Georgia. Although, nowadays it's only the third-largest city (Batumi is the second) and doesn't even come close to Tbilisi's size and wealth. Despite this, there has been a lot of work on restoring streets, buildings, parks, and monuments. Today, the city is one of the most popular tourist destinations in Georgia and safe to travel.
Best Things To Do In Kutaisi
Gelati Monastery
The Gelati Monastery was founded in 1106 by King David IV of Georgia and it is a UNESCO heritage site! There are only three in Georgia, the others are the Historical Monuments of Mtskheta and Upper Svaneti. During the golden age of the Georgian Kingdom, this medieval monastery was also a center of arts and science for centuries.
This huge cathedral is one of the biggest medieval Orthodox monasteries and it was the burial site of many kings, including David, the builder. The building is characterized by the facades of smoothly hewn large blocks, balanced proportions and blind arches for exterior decoration. The inside contains amazing medieval frescos (wall paintings).
Visiting Gelati Monastery
Although it's one of the best attractions in Georgia the Gelati Monastery isn't crowded which makes the visit even more pleasant. While being inside we found there are birds inside the church, usually under the dome! Like many other Georgian monasteries, this one leaves us feeling refreshed and serene. It gives us a sense of inner peace which is enhanced by its stunning location and relative solitude.
Tip: Ladies should wear a long dress and headdress. The man should wear long pants.
Ticket price to Gelati
Visiting the Gelati Monastery is free of charge! Georgia is a budget travelers paradise 🙂
How to get to Gelati Monastery?
We did Georgia as a road trip so we drove ourselves there. The roads are fairly good and we just needed to follow the GPS. A taxi from Kutaisi center to Gelati and back should cost about 7 USD. If you prefer using the Marshutkas, they leave the State Theatre daily at 11.00, 14.00 and 17.00, returning at 11.30, 14.30 and 17.30. It takes roughly 20 minutes each way.
Alternatively, you can book a tour to Gelati Monastery here.
Bagrati Cathedral
Bagrati Cathedral was built in the 11th century by Bagrati III and it's one of the biggest in Georgia. It's located on a high rocky bank of the river which makes it visible from all over Kutaisi. Despite being destroyed and rebuilt several times, this cathedral stands as a monument and a symbol of the Republic of Georgia.
The last renovations were made between 2009 and 2012 and used a mix of old stones, new stones, and even steel… This was very controversial and in 2017 UNESCO has removed the cathedral from its world heritage list, due to the fact that the renovation made it lose most of its historical features and value.
Visiting Bagrati Cathedral
When arriving at the cathedral the first thing that one notices it its size… It's huge, impressively huge! However, it's from the inside that we can really see how impressive it is. Around the church, there's a great yeard usually with many people, both tourists, and locals. This is a great place for people watching and if you get lucky and visit it during an event it would be even better! Bagrati is very popular for weddings…
From the Bagrati cathedral, there is a great view of the old Kutaisi, which in our opinion would make the visit worth by itself.
Tip: Ladies should wear long dresses and headdresses. Men should wear long pants.
Price of admission to Bagrati
As usual in this kind of monuments in Georgia, the entrance is free of charge.
How to go to Bagrati
Though it climbs quite a bit, the easiest way to get there is probably walking… It only takes about 15 minutes from the red bridge, which is in the Kutaisi center. As we were on a road trip we drove there which was also pretty easy and so was finding a parking spot.
You can always book a guided tour which includes a visit to Bagrati
Prometheus Cave
The Prometheus cave is one of the most impressive travel attractions in Georgia. Although being one of Europe's biggest Cave, it was only discovered in 1984. The caves are hidden away in the dense vegetation of the Georgian mountains. Prometheus caves offer an incredible variety of features. In only 1.4 km one can see stalagmites, stalactites, cave pearls, curtains, petrified waterfalls, and even underwater lakes and rivers! It is even possible to take a short boat trip inside the caves! Though it is only possible to do it when water levels are at a good level…
Despite the name and what you may have read, the Prometheus Caves don't have any historical connection to the Greek legend. They were named after Prometheus only as a marketing stunt not because the rock where he was chained was close it… at least according to the official guides.
Visiting Prometheus Caves
The visits to the caves are actually guided tours. During the visit, you are always accompanied by a tour guide that explains the several features and shows you the most spectacular ones. There are tours in English, Russian, German and Georgian. We had a really excellent time in the caves, enjoying the amazing rock formations, the lakes and the light effects created by the colorful lighting.
Despite being an easy walk with clear pathways you should wear comfortable shoes as you walk through the five subterranean halls and there are lots of stairs.
Please note that the boat ride isn't available if the water level rises too much in the cave.
Price of admission and timetable
The tickets to the cave cost only 20 GEL. If you are doing the boat trip in the Cave you need to pay an extra 15 GEL.
Working hours: 10:00 – 17:30
Working days: every day except Mondays
How to get to Prometheus Caves
The caves are roughly 25 km from Kutaisi city center and should take you about 30 minutes to get there. The roads are good and parking shouldn't be a problem.
Alternatively, in Kutaisi's main bus station you can take a bus to Tskaltubo (from the red bridge) and then another to the cave.
Or Click here to book a tour to Prometheus Caves
Okatse Canyon
Okatse Canyon is another incredible place close to Kutaisi. This canyon is considered the biggest in Georgia with a depth that ranges between 20 and 100 meters, creating wonderful views.
The exciting new 700-meter long walkway on the edge of the canyon provides a great way of enjoying this Georgian natural wonder. At the end of the walkway, there's a viewing platform that hangs right out over the middle of the canyon creating the perfect spot to enjoy breathtaking views, untouched by humans.
Visiting Okatse Canyon
Okatse Canyon is a great place to hike, relax and finally have an adrenaline rush in the walkway! From the new tourist information and ticket office infrastructure to the canyon, there is a 45 minutes/1 hour walk through the Dadiani historical forest/park.
Then you'll find the checkpoint where your ticket is checked and you'll enter the Okatse Canyon and its walkway. The walkway and the final viewpoint are the highlight of this hike and will be leaving you feeling pleasantly thrilled as you take in its beauty. Unless you have vertigo…
Ticket price to Okatse Canyon
The ticket to enter the canyon is 15 GEL (5-6 USD) and should be bought at the visitor's center. It's free to do the hike until the checkpoint. You could also hire a 4WD from the locals to take you directly to the checkpoint, though we advise you to do the walk as it's pleasant and good exercise. 🙂
Working hours: 10:00- 17:30
Working days: every day except Mondays
How to get to Okatse Canyon
From Kutaisi central station (Ilia Chavchavadze Avenue, next to Macdonald's) catch a Marshrutka to Khoni. In Khoni, there is another Marshrutka to Gordi. If you are driving it should take you about 1 hour from Kutaisi (roughly 50 km). Again, the roads here are pretty good and there's plenty of parking spots.
Or you can click here and book a tour to Okatse Canyon
Kinchkha Waterfall
Kinchkha waterfall is located just a few km from the Okatse Canyon and if you visiting one you shouldn't miss the other. This waterfall is located at 1000 meters high but what really impresses is its 70 meters high and free-falling water…
Visiting Kinchkha Waterfall
Unfortunately, when we visited the waterfall it started raining and we didn't really enjoy it as much as we could. It was also very foggy which ruined most of the pics… Though we could see how big and powerful it is.
You can go even further and visit Lomina Lake, which it's about 2 km from the waterfall, though it's really worth the walk. This Lake is located in the heart of the forest, where you can swim and enjoy nature (if the weather allows it). One can even camp and stay the night.
Price of admission
It's free! You may need to pay for parking though…
How to get to Kinchkha Waterfall
We don't think there are any buses to the waterfall, but you can take a Taxi for roughly 20 USD.
From Okatse Canyon its 5 km and takes about 15 minutes by car. The road is very very steep in the last km but any car should be able to climb it, so you don't really need to worry about it.
Martvili canyon
Martvili canyon (sometimes called Gachedili Canyon) is the ultimate wonderland in Georgia! This is a very small canyon that inspires through its natural beauty, not its size. Within the canyon, there are several waterfalls, an amazing deep turquoise water river, 2 bridges and an endless list of incredible views.
There's a 700-meter long circular route starting in the and crosses the Dadiani historical trail. Throughout the trail, there are 2 bridges, 3 platform views and 30 step stairs built with large boulders.
Besides seeing the wonderful waterfalls, hiking the trails and breathing the pure air of the mountains, you can enjoy a small boat ride through the canyon.
Visiting Martvili Canyon
The Martvili Canyon is probably the most fairytale-like place in Georgia. We can divide the canyon into 2 parts: the boat ride and the walking trail.
You can enjoy a 300/500-meter boat tour on river Abasha and take in the beautiful views of this mountain river canyon. Despite being a very short trip we can see a section of the canyon that it would be impossible if not from the river. You are expected to row as the boats don't have motors but honestly, that just makes it even more fun!
The walking trail is very small but is completely full of incredible views and amazing features. Everything is so cute and the colors of the river and lush forest are incredible. This is probably the most charming spot we have been in Georgia! And Georgia has much more than its share of beautiful places…
Tickets to Martvili Canyon
The entry ticket to the Martvili Canyon costs 15 GEL (foreigner), but this doesn't include the boat ride. If you want to do the boat you have to pay an extra 10 GEL per person.
Working hours: 10:00 – 17:30
Working days: every day except Mondays
How to get to Martvili Canyon
This is the furthest attraction from Kutaisi on this list. However, if you have a car it should be very easy to get there on a day trip as it takes less than 90 minutes to get there from Kutaisi. The roads are good and there's parking close to the canyon entrance. There are several daily bus/marshrutkas from Kutaisi to Martvili costing 4 GEL, each way.
Or you can click here and book a tour to Martvili Canyon
If you are looking for places to eat in Kutaisi, we recommend you to check this post who features some of the best Kutaisi Restaurants & Nightlife.
Accommodation In Kutaisi
Hotels and guesthouses are very cheap in Georgia and in Kutaisi isn't an exception! In fact, Kutaisi is even less expensive than in Tbilisi or Batumi, and they are good. There are a few incredible value-for-money deals in Kutaisi. If you are staying in Kutaisi these are our recommendations.
Where To Stay In Kutaisi
Best guest houses in Kutaisi
Sisi Guesthouse
This is our favorite guesthouse in Kutaisi. despite not speaking much English, the owners are very nice, making you feel at home. The room is very comfortable and after a day hiking and traveling it feels like haven! Breakfast is usually included in the night rate and it includes coffee, toast, eggs, and even tomatoes! We just loved our stay in Sisi Guesthouse.
Click here to check this amazing value for money guest house
Sun Guesthouse
Sun Guesthouse is another great guesthouse, with complimentary breakfast and excellent value for money. It's closer to the city center and very close to the Bagrati Cathedral, so if you are doing Kutaisi without a car, this is a great option also.
Click here to see the price in your traveling dates
Best Hotels in Kutaisi
Edemi Hotel
Edemi Hotel is located in a historic building in Kutaisi which gives character. You may rent bikes and play ping pong or billiards freely! This is a very nice place for a couple's vacation. The free parking and being close to the train station means that it's a good option both for self-driving travelers or public transports users.
Click here to check how great is the value for money here.
Crown Hotel
Crown Hotel is located right in the city center which means you are close to everything and can enjoy a nice city view. It offers a superb buffet breakfast and free parking!
Click here to see the price in your dates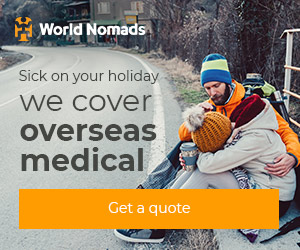 ---
Our Recommended Georgia Travel Guide Books
Georgia (Bradt Travel Guide) – if you are only traveling to Georgia!
Lonely Planet Georgia, Armenia & Azerbaijan (Travel Guide) – in case you are planning to travel to the Caucasus